HALF-Fare is a fare discount program that allows individuals who are eligible to ride the regular fixed-route system for half the regular fare. Tar River Transit's regular bus fare is $1.25. Individuals who are eligible for the Half-Fare program can ride for $0.60.
Rules for using transfers:
You must ask the driver for a transfer when boarding the bus, stating the route to which you want to transfer. TRANSFERS WILL NOT BE ISSUED AT ANY OTHER TIME DURING YOUR TRIP. You cannot obtain a transfer when you exit the bus.
The transfer will have an issued-time printed on it. YOU MUST CATCH THE NEXT AVAILABLE BUS TRAVELING THE ROUTE TO WHICH YOU ARE TRANSFERRING IN ORDER FOR THE TRANSFER TO BE VALID.
As the bus approaches the transfer point, the driver will notify the other bus so that you are assured of making your connection.
Occasionally buses are delayed by trains, traffic, or blocked streets. The driver will adjust the time on the transfer and will inform you of how long you will have to wait.
When you board the second bus, give your transfer to the driver. DO NOT PUT THE TRANSFER IN THE FAREBOX OR LEAVE THE TRANSFER ON THE DRIVER'S SEAT!
Transfers are not valid for making a round trip. For example, you may not ride the bus, shop for 30 minutes and use the transfer to return home.
Transfers may not be sold or given away.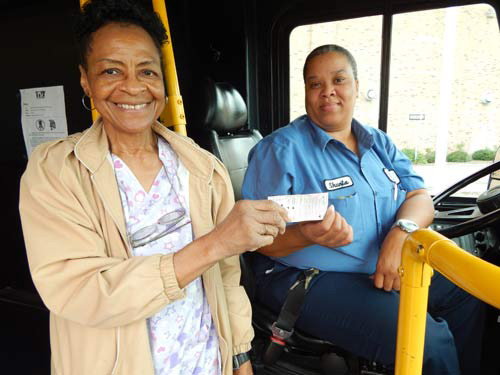 Please pay the fare, then call:
252-972-1174
TDD 1-800-735-2692. 
We will resolve the problem!